I have watched 155 AWS re:Invent 2020 talks, so you can watch just the best ones...
8 min read, last updated on 2021-02-11
Problem Statement
If you have lived under a rock for the last 3 months, I feel obliged to remind you that AWS re:Invent 2020 lasted 4 weeks and generated more than 800 videos in their YouTube channel. I am not a pessimist, but a well-inform realist, so I knew that there is no way to catch up, having such a mountain of content behind your back.
Instead, I have re-organized my time in December 2020 and January 2021 to watch as many talks as possible. I have managed to stop the counter at 155, which is a ton of content - some of that definitely worthwhile, and some being … not worth it at all, to put it mildly. 💩
Before even starting the process, I have decided to do this as a reliable project that will give me an excellent ROI (return of investment) - so I made notes, comments, even my own rating system. Why? To share it and document how I learn, in public.
The whole process of extracting the ratings and notes was not painful. However, it's wasn't trivial as well. How have I done that? You can read about it here. I can give you a small teaser now: I have used a newly released service called AWS Glue DataBrew.
You may say: Yeah, yeah - we've got it. You have recommendations for us. Share them! Sure, will do - but first, I want to present you my assumptions, which gives you a glimpse of what you can expect.
Assumptions
In the beginning, I had to admit that I am picky.
First, I prefer working with data, so anything from AWS Databases and AWS Data Analytics topics comes first. Then, I focus on services and talks that are fitting the serverless umbrella term. Last but not least: anything related to the new services. In the end, I have decided to form a bonus list created from the mixed content from the other categories.
However, being picky is not as bad as being demanding. If I see a talk 400 or 300, my expectations are set on a really high level - it's not related to a flawless execution or delivery, but the meat and juice. 🍖 If I am spending 30-45 minutes, I want to learn as much as I can.
A few additional constraints:
No keynotes nor leadership sessions.

Only sessions that are available on-demand later.

If you have read the post about data preparation (aka backstage), you know that my rating is from 0 to 10.

I have decided to not waste anybody's time for any talk rated below 7.
Knowing the prerequisites, I have selected the top 5 presentations from a given category and collected them in a section below, together with my rating and commentary.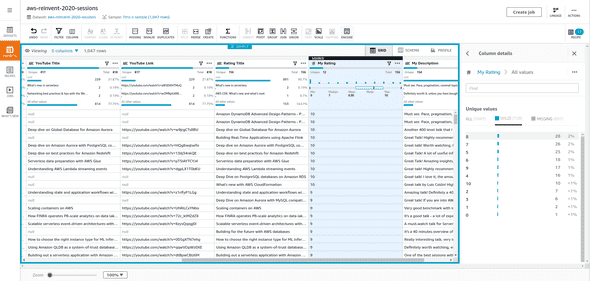 Recommendations
Let's do it!
AWS Databases
As a first category, my favorites - videos about AWS Databases portfolio:
AWS Data Analytics
Now it's time for my another favorite category - anything related to the AWS Data Analytics:
Serverless
Since the release of AWS Lambda, every re:Invent conference covers a lot of ground related to the serverless services. The last event was no different, and those are definitely worthwhile:
Newly Announced Services
In 2020, AWS announced many services (many of them has SageMaker in the name 😅). Many of those are still in Preview, or they are marked as Coming Soon. Such presentations are the only way to learn more about them. I can recommend those:
Other Categories
This is a strange category - I have collected everything that does not fit in the categories above, but you can also see that it's a weird mix, and some topics are not pragmatic. So, viewer discretion is advised 😂:
Summary
For your convenience, I have collected all playlists in a single place. You can find all talks that I recommend per category listed above, not just the top five that I have presented there.
Obviously, I have not watched everything. 😅 So if you see a valuable talk that it's not on my list please share it with me in the comments. I would love to learn what I have missed, add one more video to my pile of shame, and catch up eventually.
And last but not least: if you like what I did, maybe I inspired you, you agree with my recommendations, or you just think that this project is madness or I am a maniac (😂), please share this post in your favorite social media (and remember to tag me - afronski or afronsky are my handles). This will mean a lot to me! 🙇