The unofficial guide to AWS Certified Machine Learning Specialty Exam
3 min read, last updated on 2021-12-23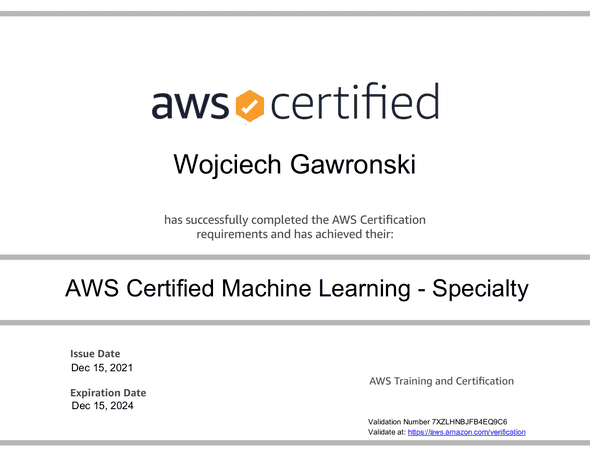 After 2 years of hands-on experience in a few projects that heavily used Amazon SageMaker, I have decided to approach the certification related to Machine Learning. And oh boy it was an interesting challenge…
Below, I have summarized my experience and collected an extensive list of materials that I have used in the process. Preparation to the exam itself took ~6 months. Keep in mind that this certificate is totally different in terms of requirements, so hands-on experience with Machine Learning topics (especially theory) is necessary - and it's reflected in the blueprint. Speaking about it…
Blueprint and Prerequisites
Before we go to the materials, I want to start with an official blueprint:

TODO: How to read blueprint table?
As usual, more general tips are applicable as well:
Additional handicap of 30 minutes for non-native English speakers is still available, so make sure that you have requested that.
Make sure you will use the flagging mechanism and reiterate the questions if you have time.
There is no penalty for guessing.
You can and should apply the same rules as in the other exams (look here for more details) regarding how to read a question and answers. So make sure your bullshit-o-meter is well calibrated. 😂
As we have the usual stuff covered, let's discuss my thoughts regarding the exam content and coverage.
My thoughts about the exam content
TODO: Exam content commentary.
Resources
TODO: Resources.
Additional resources from AWS
In this section, I would like to emphasize a few additional types of resources that are definitely worth checking.
TODO: Start with the sample questions and if you do not get 8/10 (with full understanding why you've chosen certain answers) do not attempt the exam.
TODO: Where are easy points?
TODO: Practice is available for free nowadays.
Last, but not least - as in the previous cases, I found AWS Certified Machine Learning - Specialty Exam Readiness available here enjoyable and well-prepared. It is worth doing just for the questions presented there, but I liked the course's interactivity. Topics are prepared nicely, comprehensively and allow you to review the content if you have missed anything.
AWS Blog Post you have to read
TODO
List of AWS whitepapers worth reading
I have one remark about whitepapers for this exam: focus more on re:Invent videos (especially the deep dives into SageMaker and available algorithms).
Nevertheless, there are some papers worth reading. Here is the list that I have read and my recommendations on how important each one is:
Must Read:
Nice to Read:
For Beginners:
List of re:Invent videos worth watching
Here is my playlist that I watched and think those are valuable:
It is an awful lot of much watch time, but watching those on 1.5x speed is still pleasant (Video Speed Controller extension is your friend). And I cannot stress that enough: those are more important than whitepapers. I experienced many more questions than I recalled from the re:Invent talks.
Are you up to your AWS Machine Learning adventure?
TODO: Summary
I hope this guideline will help you to prepare and evaluate your knowledge. If you have any questions, remarks, doubts, other observations, or you want just to share the joy of the passed exam, feel free to do it in the comments below.
And of course: Good Luck with your exam! Have Fun. 💪